T&T Scientific Ethanol Injection Manufacturing Platform for
Gene Therapeutics and Vaccines (Processing mL's to 100s of Liters)
---
NanoSizer FLOW GMP: All-in-One Nanomedicine Solvent Injection Platform from Research to GMP Manufacturing
Saving Money: The cost of the equipment and the consumables are affordable and low cost.
Saving Time, Fast, and High Throughput: You can manufacture at least 120 L per hour output up to 480L per hour.
High Quality:, Low PDI, and High Encapsulation Efficiency Achieved: The narrow size distribution (as low as 0.05) and high encapsulation efficiency yields (99%+) have been achieved using various formulations
Saving APIs: T&T Scientific systems works with a wide range of tube sizes to minimize all dead volumes associated with the manufacturing of pharmaceuticals and minimize the loss of APIs.
No Hassle for Long Term Commitment or Any Licensing: T&T Scientific requires no licensing or royalty hassle for customers using this equipment to manufacture pharmaceuticals in any phases EVER!
No Royalty Paid or Long Term Profit Share by the Buyer: We don't demand the third party to pay us any amount for using the NanoSizer FLOW GMP machine,
Research to Manufacturing All-in-One System (50mL-500L or More): whether you are doing research, on the way to commercialization, or GMP manufacturing nanomedicines, this technology covers a wide range of samples from 50mL to 500L or more.
Easily, Customized, and Fully Integrated App: T&T Scientific NanoSizer FLOW GMP includes licensing-free stand-alone, fully integrated software. The software allows you to control and monitor all flow conditions, tube sizes, and pump head choice of 2, tank volume status, final collection volumes, tank sizes, priming conditions, and waste volumes.
Single-use Components: the low cost of components for NanoSizer FLOW allows the clean components to be used as single-use, which are already sterilized (or not), and also to reduce the chances of contamination.
No Cleaning Validation Required: by using clean parts as single-use, you will be able to eliminate the requirements for cleaning validations.
---
About NanoSizer FLOW Lab Scale to High Throughput GMP Systems
T&T Scientific offers the world's best nanomedicine manufacturing platform with scalable, low cost, high throughput, high quality, and a wide range of operations. The GMP system can operate and process 50mL to at least 500L+ (Tested) nanomedicines for cGMP manufacturing of gene therapies and vaccines (i.e., RNA therapeutics and COVID-19 vaccines). The NanoSizerTM technology has been developed over the years with great characterization and optimization procedures to achieve the precise and narrow size distribution of particles and producing highly encapsulated lipid nanoparticle APIs. We have reached the PDI as low as 0.05 and consistent encapsulation efficiency of over 99% after optimizing flow conditions for a given formulation. Moreover, the cell studies indicated a promising transfection and association of lipid nanoparticle mRNA into cells. T&T Scientific does not require any licensing and royalty fees or contracts for its clients. T&T Scientific culture believes clients should have no limitation when developing lifesaving novel pharmaceutical nanomedicine therapeutics and vaccines.Nanomedicines Made Low Cost, High Quality, Small Volume to High Throughput (50mL-500L+) All in One GMP System & Never Pay for Licensing or Royalty to Produce Life Saving Therapeutics and Vaccines
---
Technology Demonstration and Review

---
NanoSizer FLOW Solvent Injection Models

Ideal for Research and
Development of Nanomedicines

Ideal for Scale Up and Pilot
Scale Productions

Best Value Small to Large Batches All-in-One System

NanoSizer FLOW Blink
(Small Scale 0-100mL)

NanoSizer FLOW Customizable
(Small to Medium Scale 0-400mL)

NanoSizer FLOW GMP
(50mL to 500+ L)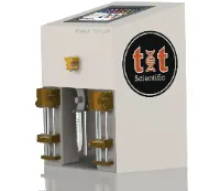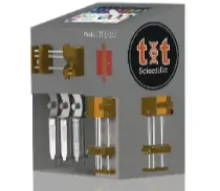 50mL-500L+ Batches All-in-One
---
Up to 15mL/min (Each Line)
Up to 15mL/min (Each Line)
---
Installation, Training, and One-Year Exclusive Support and Replacement Warranty



---
Qualification Options: IQ/OQ/PQ/PM




---
Inline Dilution and Multi-Lines Option


---
Temperature Control Option



---
PAT On-line Analytics Options


---
Compatible with Inline Post-processing Compatible (TFF, Sterile Filtration, Fill, Finish) Options


---
Continuous Manufacturing Option


---
---
---
---
---
Send Any Request Here and Our Experts Will Get Back with You Promptly